GM Floor Screeds are specialists in liquid screeds applications. A liquid screed is also known as a flowing screed or liquid flow screed. It is designed to provide a smooth level surface in both commercial and domestic buildings and properties prior to the application of floor finishes.
Liquid screeds comprise sand and a binder system based on calcium sulphate. It is designed to provide a professional finish, with a smooth, level surface to lay your flooring. Liquid screeds are easy to pump or even pour and dry quickly. Our screed is pumped directly onto a surface, so it reduces thickness and drying time, giving you peace of mind that you're able to continue with your project on schedule.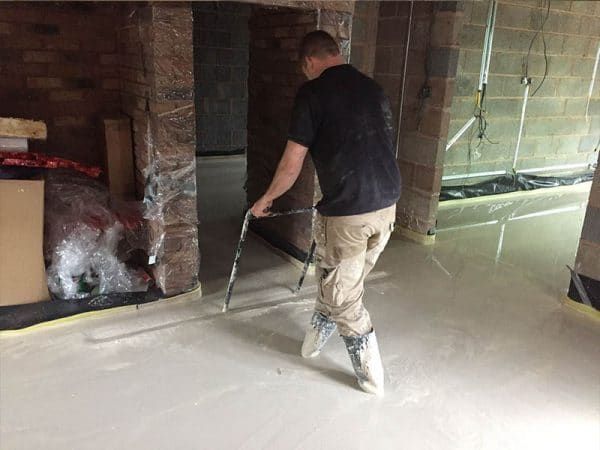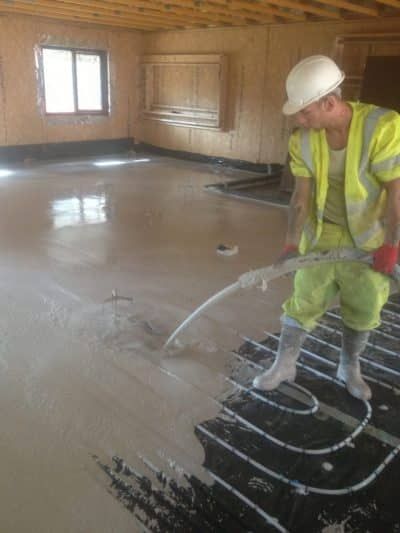 Benefits of Liquid Screeds
It transfers heat far better than a standard sand and cement screed as liquid screeds leave no gap unfilled - all air pockets are filled preventing heat from rising.
Transfers 100% efficiently.
Reduced labour requirements.
Reduced material requirements - although it is an expensive product, aiming to keep screed at a minimum requirement, helps keep costs at competitive rates.
Key Features of Using Liquid Screeds
Flow and Liquid screed have many advantages. These include:
It has a low risk of shrinking and cracking.
The application's thickness is considerably reduced compared to traditional sand and cement screed.
After being laid, it can be walked on in 24-48 hours.
It can be loaded after 7 days.
Ideal for use with underfloor heating.
Easily achieves SR2 finish as described in BS8204.
It is protein-free – cannot harbour harmful bacteria.
Non-combustible (tested to BS476 Part 4).
Got A Question?
Check out our Screeding FAQ's to learn more.
Depending on the type of screed you choose or require will determine its drying time. Most screeds are normally adequate to walk on after 48 hours at most however some can be walked on within a day and with added additives can be walked on after 12 hours.
It is recommended to leave a screed 28 days before placing furniture on it, however, flooring and some furniture can be placed on the screed after 7 days if completely necessary.
There is a type of floor screed for essentially any property. Whether you want to screed your commercial, domestic or industrial property there is a screed that can be applied. This is because screeds can be adapted to suit the environment they will be in, i.e. screeds can be made to withstand more heavy duty loads if required.
Just like the curing time, the type of floor screed chosen will depend on the thickness it needs to be.
For industrial and commercial spaces with heavy duty applications, the floor screed will need to me considerably thicker than one in a domestic property.
However, it is best to ask your builder the thickness needed to be completely accurate.
Screed and concrete are both made up of the same materials, however, screeds use a finer aggregate, therefore, making the material overall smoother. This make concretes stronger as the extra aggregate adds more strength however as a screed is made to be put over concrete the strength is still maintained.